Búni is a West Flemish family business with over 30 years of experience in custom interior solutions. Formerly known as Eurochair, we have rebranded ourselves as Búni. This name signifies 'something unique' in Japanese, symbolizing the unique and personalized approach we take with each of our clients. It aligns perfectly with our company ethos and deep-seated Belgian heritage.
The 'B' in Búni represents our family name, Behaegel, reflecting our strong Belgian roots. With over three decades of experience, we are dedicated to meeting the diverse needs of various sectors, including hospitality, healthcare facilities, and more.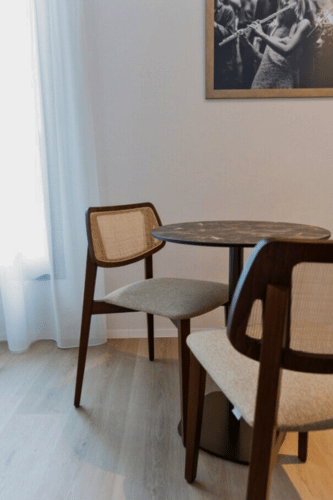 Why choose Búni?
High quality craftsmanship with personal service
In addition to offering a wide range of furniture, we believe in a personalized approach. We guide you from start to finish and can even provide advice on interior design. Our team works closely with you to ensure that your vision aligns with the architecture of the space.
Nothing is too much for us. We are willing to brainstorm with you to find the perfect solution for your concept. At Búni, we combine high-quality craftsmanship and a personalized service.
Let's work together
Book your meeting
We invite you to make an appointment at our showroom and explore the possibilities together.